Alumni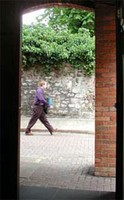 The CMRS Alumni Association plans a number of events in Oxford and America each year. These will be publicized well in advance by The Friends of CMRS and through future newsletters.
We also have a CMRS Facebook Group and a LinkedIn Group which we hope will provide lively forums through which news, reminiscences and useful information can be shared. We urge as many alumni as possible to sign up.
However, if you are not on Facebook, we would still like to keep in touch, updating you with news about the exciting developments here in Oxford, forthcoming alumni events, and our progress in fulfilling our aims for the 40th Anniversary of CMRS in 2015.
If you would like to become a member of the Alumni Association, please email.