Welcome to the Middlebury College-CMRS Oxford Humanities Program!
Based in the centre of historic Oxford, this unique study abroad programme offers challenging courses within Literature, History, Art History, Philosophy, Religion and Politics.  The courses cover a wide range of modern as well as classical, medieval and early modern subjects. If you are looking for a topic that is not on our course list, contact us about it.
The combination of a supervised research course, a readings seminar and one-to-one tutorials is not found at any other study abroad programme in the U.K.
The semester-based 14-week programme is open to qualified undergraduates from North American colleges and universities.  Students become associate members of Keble College Oxford and have access to college facilities as well as the Bodleian Library.
Because you might just get a blast out of it.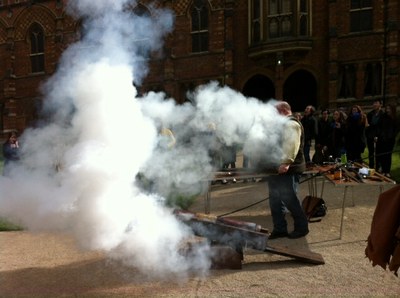 Here on the Middlebury-CMRS website, you can:
Please consult our Student Handbook for detailed information about life on the program.
For application procedures and fees, please consult the Middlebury College Study Abroad website.
We hope you enjoy exploring our website and discovering more about us – if you have any questions please do not hesitate to contact us.
We look forward to hearing from you soon!